Whether within the military, Navy, Air Force, Marines, or Coast Guards, our custom-made military challenge coins have the load, quality, and gravitas to genuinely do justice to the integrity of our dedicated servicemen. No matter the reason for your military challenge coins project, we will help. We aim to please you. We'd be honored to help you create a coin that is uniquely yours.
As for military challenge coins, tradition, history, and custom play an unlimited part in military challenge coins. They are not souvenirs or keepsakes but a logo of a better purpose, serving our country and being prepared to make the ultimate sacrifice.
Where Did Military Challenge Coins Tradition Come From?
Custom challenge coins have a storied history within the military, yet their official origins remain a subject of debate among military historians.
One prevailing account suggests that during World War I, a well-to-do American lieutenant distributed matching bronze custom challenge coins to his unit members before they embarked on their deployments.
A captivating anecdote involves an American pilot who found himself captured by Germans but eventually escaped to a French outpost. Initially suspected as a German spy, his life was spared when he presented his custom challenge coin, hanging around his neck. According to the legend, this custom challenge coin not only saved his life but also earned him a coveted bottle of French wine as a gesture of goodwill.
On the other hand, some historians argue that the tradition of custom challenge coins originated in a Vietnam-era infantry-run bar. Here, patrons were required to either show enemy bullets or their custom challenge coin upon entry.
Regardless of which narrative one subscribes to, custom challenge coins continue to play a role in military culture. Service members frequently employ their custom challenge coins as a means of camaraderie, often initiating impromptu challenges by tapping their coins during bar encounters and shouting, "Coin check!" The individual either unable to produce their custom challenge coin or the last to reveal it is typically tasked with buying the first round of drinks, perpetuating this longstanding tradition.
How Has Military Challenge Coins Since Evolved?
The tradition of military challenge coins has reached the highest echelons of the armed forces. In 2011, Robert M. Gates, the then Secretary of Defense, extended his gratitude to U.S. troops in Afghanistan by personally handing them specially crafted military challenge coins as tokens of appreciation.
Since the Clinton administration, every U.S. president has carried unique and meticulously designed military challenge coins to present to foreign dignitaries and members of the armed forces. President George W. Bush frequently bestowed them upon injured troops returning from deployments in the Middle East, while President Barack Obama established a tradition of distributing them to service members stationed near Air Force One's stairs.
Military Challenge Coins Today
Military challenge coins have transitioned from being mere identifiers for military personnel to serving a broader range of purposes. They now play a significant role in fostering friendships, strengthening bonds, and promoting success. These versatile coins are not limited to the military; they have gained popularity among school merchandise, church organizations, scout groups, Greek organizations, and many other communities.
Military challenge coins not only symbolize individual strength and courage but also serve as catalysts for teamwork and camaraderie. Whether kept as cherished mementos or exchanged as tokens of appreciation, military challenge coins offer an excellent means to showcase one's identity and roots.
Appearance Of Military Challenge Coins
In the world of challenge coin gallery, a myriad of finishes awaits your exploration, ranging from the elegance of simple pewter to the opulence of 24K gold. While the underlying metals provide a sturdy foundation, it's the patina or finish that truly distinguishes these remarkable collectibles. You can find finishes that shimmer in gold, shine in silver, glisten in nickel, or radiate in brass, copper, or bronze, including captivating antiqued variations.
For those seeking a burst of color in their challenge coin gallery, options abound. Soft or hard enamel coatings, or even a printed inset adorned with an epoxy finish, can infuse vibrant hues into your collection. Notably, epoxies not only add brilliance but also offer enhanced resilience and scratch resistance compared to traditional metal surfaces.
Cost Of Military Challenge Coins
When it comes to military challenge coins, cost-effective design and production options are readily available. There are primarily two manufacturing processes to choose from: zinc-alloy castings and die-struck bronze coins.
Zinc-alloy castings come with the advantage of affordability. They also offer greater design flexibility, allowing for intricate features like cutouts commonly seen on spinner coins or opener coins. On the other hand, die-struck bronze or brass coins come at a higher cost, but they result in a superior-quality product.
As of 2010, the production cost for coins manufactured in China and South Korea typically ranged from US$2.50 to US$7.00 per coin. The final cost depended on factors such as the chosen production process, design complexity, use of enamels, and the presence of voids, among others.
The creation of coin dies involves the expertise of skilled artists and can cost anywhere from US$50 to US$300, depending on the intricacy of the design. Domestic manufacturing expenses can be significantly higher than this.
Application Of Military Challenge Coins
Motorcycle Clubs
Military challenge coins have found a significant following within motorcycle clubs. One notable organization embracing this tradition is the "National Association of Buffalo Soldiers and Troopers Motorcycle Club" (NABSTMC), boasting more than 85 chapters and a collective membership exceeding 2,000. In the NABSTMC, earning a military challenge coin is a symbol of achievement, granted to members for noteworthy accomplishments.
Furthermore, in 2009, the Harley Owners Group (HOG) introduced its exclusive challenge coin, available to Harley-Davidson motorcycle owners.
Science
In the realm of scientific competition, military challenge coins have also left their mark. Since 2016, winners of the 'Grand Prize' in the International Genetically Engineered Machine competition (IGEM) have been awarded military challenge coins as a testament to their achievements.
Additionally, Varian Medical Systems, a renowned medical device manufacturer, acknowledges exceptional contributions by its service personnel with military challenge coins. Given that a substantial number of Varian employees possess military backgrounds, many have acquired the electronics and mechanical skills necessary to support Varian equipment.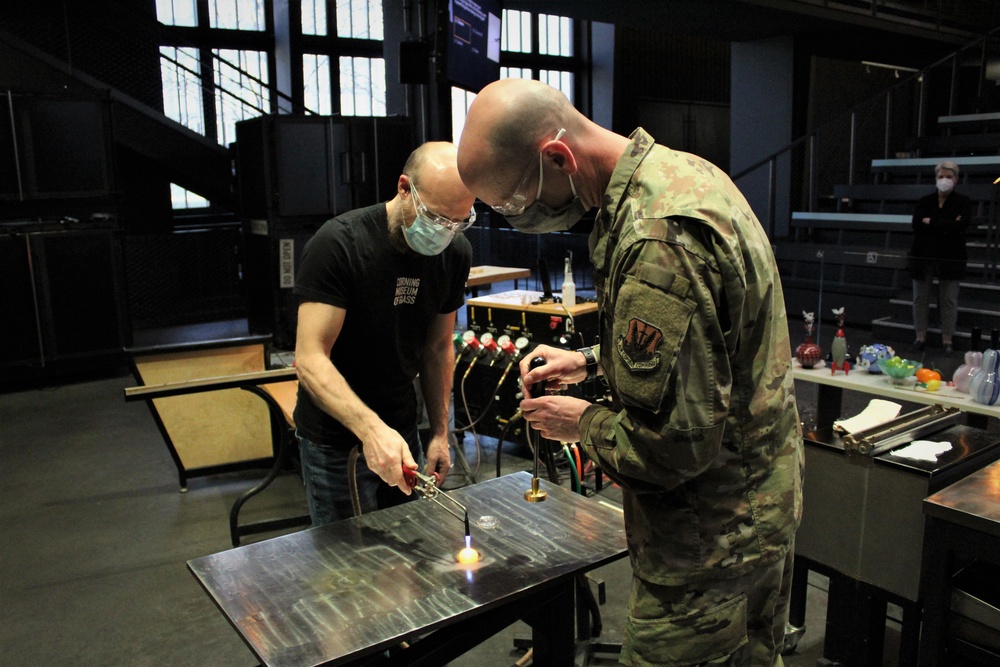 Media, Business, and Education
Numerous instances showcase the distribution of military challenge coins in various sectors, including the media industry:
In 2020, a military challenge coin created quite a buzz when America's leading Challenge Coin Maker released a commemorative coin related to an event in Connecticut featuring Trooper Spina.
Louis "Uncle Louie" Gregory, in 2020, faced a cease and desist order from the Secretary of State of Virginia for a military challenge coin he designed.
Director Jon Favreau, in his audio commentary for the DVD release of Iron Man 2, mentioned that he had Iron Man 2 military challenge coins crafted to express gratitude to U.S. Air Force personnel for their cooperation during the filming at Edwards Air Force Base for both Iron Man and its sequel.
Bill Prady, the executive producer of "The Big Bang Theory," presented the "executive producer's military challenge coin" to the crew of the last space shuttle.
On an episode of "Lock N' Load with R. Lee Ermey" titled "Rockets," R. Lee (Gunny) Ermey gifted a challenge coin to Lieutenant Carr, recognizing their achievement as the "top gun" in the class with the Javelin Portable Rocket Launching System.
Volunteer examiners within the American Radio Relay League often carry the VEC (Volunteer Examiner Coordinator) military challenge coin. These individuals play a crucial role in administering Federal Communications Commission-sanctioned exams that enable applicants to qualify as amateur radio operators in various license categories.
The crew of "Breaking Bad" received military challenge coins created by the show's creator, Vince Gilligan, for each new season. A military challenge coin was also included in the Blu-ray set of the entire series.
Video game companies like Treyarch included military challenge coins in specific packages during the release of Black Ops 2.
Backers of the crowdfunded movie "Lazer Team" received military challenge coins as an optional perk for supporting the film's funding.
In the 2018 film "Hunter Killer," Gerard Butler's character is presented with a military challenge coin during a handshake.
"Mystery Science Theater 3000" offered military challenge coins for purchase to commemorate their 30th anniversary during their 2018 "Watch Out For Snakes" Live Tour.
Additionally, military challenge coins have found applications in business and education, where they are used to recognize staff achievements, enhance employee morale, and reduce turnover. Notably, the Builders Association of the Twin Cities (BATC) issued a military challenge coin to underscore their core values of "recruit, retain, grow." Likewise, St. Mary's University issued a coin to honor Public Safety Administration in their academic programs.
Once we receive your information, Super Challenge Coins immediately commence the design process at no cost to you. Our dedicated customer service team is here to guide you through every stage, ensuring that creating your next customized product is a seamless and effortless experience.